{ "new": "//teapigs.com/cdn/shop/files/new_b6d56321-4d74-428a-9139-36dff7ef4f60_120x.png?v=1613730746" , "forest": "//teapigs.com/cdn/shop/files/rainforest_alliance_120x.png?v=1613730745" , "": "//teapigs.com/cdn/shopifycloud/shopify/assets/no-image-160-1cfae84eca4ba66892099dcd26e604f5801fdadb3693bc9977f476aa160931ac_120x.gif" }
spiced winter red tea
tea with trimmings
Rooibos is an excellent caffeine free base to cinamon, cloves and orange peel. Lovely with or without milk.

winner!
1 star 2020 Great Taste Award
caffeine?
naturally caffeine free
calories?
0 calories per cup

great with
your fave milk, even alternatives!
what's special about this tea?
We've captured the best bits of winter in a cup. Mulled wine and mistletoe. Winter coats and rosy cheeks. Log fires, happy cats and old movies on the telly. Tea and warming spices. A blend of orange peel, cinnamon and cloves on a rooibos tea base - perfect on a crisp frosty day or with brandy at bedtime (drink responsibly!).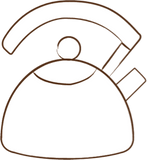 how does it taste?

Warming winter spices combined with a delicious red tea base. The mulled wine of tea.
good if you're feeling

Chilled, but not in a good way - this tea will warm you through.
ingredients

Rooibos, natural flavorings, orange peel, gingko leaves, orange blossom, cinnamon, ginseng, cloves, safflower petals.
nutrition

nutrition per 100ml

0 kcal
0 sugar
0 fat
trace carbohydrate

Dairy free, gluten free, suitable for vegetarians and vegans. Made in a factory that handles nuts.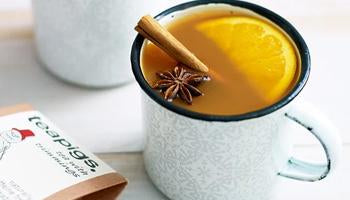 tea toddies and cocktails
Spiced winter rum punch anybody? We've got some fab drink recipes this way.
learn more
our packaging

tea temple
made from plant starch - pop in your commercial compost collection

inner bag
made from wood pulp - pop in your home compost

outer carton
made from sustainable cardboard- recycle me