{ "new": "//teapigs.com/cdn/shop/files/new_b6d56321-4d74-428a-9139-36dff7ef4f60_120x.png?v=1613730746" , "forest": "//teapigs.com/cdn/shop/files/rainforest_alliance_120x.png?v=1613730745" , "": "//teapigs.com/cdn/shopifycloud/shopify/assets/no-image-160-1cfae84eca4ba66892099dcd26e604f5801fdadb3693bc9977f476aa160931ac_120x.gif" }
gingerbread tea
winter edition
All the loveliness of gingerbread men in a tea - incredible!
$7.99
caffeine?
naturally caffeine free
calories?
3 calories per cup

limited edition
grab them whilst they're hot
what's special about this tea?
Whether you prefer your gingerbread shaped like a house or a teenie tiny person - you'll love our take on the festive classic. Drawing on an army of spices and the natural sweetness of liquorice root, this blend delivers all the gingerbread goodness you know and love, but only 3 calories a cup!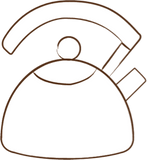 how does it taste?

Just like a ginger treat.
good if you're feeling

In need of a giant super gingery treat.
ingredients

Cinnamon, ginger, liquorice root, chicory root roasted, apple, cardamom seed, pumpkin, anise, clove buds, star anise, and natural cinnamon flavoring with other natural flavorings.
This tea contains liquorice root - people with hypertension should avoid excessive consumption.
nutrition

nutrition per 100ml

3 kcal
0 sugar
0 fat
trace carbohydrate

Dairy free, gluten free, suitable for vegetarians and vegans. Made in a factory that handles nuts.
our packaging

tea temple
made from plant starch - pop in your commercial compost collection

inner bag
made from wood pulp - pop in your home compost

outer carton
made from sustainable cardboard- recycle me