{ "new": "//teapigs.com/cdn/shop/files/new_b6d56321-4d74-428a-9139-36dff7ef4f60_120x.png?v=1613730746" , "forest": "//teapigs.com/cdn/shop/files/rainforest_alliance_120x.png?v=1613730745" , "": "//teapigs.com/cdn/shopifycloud/shopify/assets/no-image-160-1cfae84eca4ba66892099dcd26e604f5801fdadb3693bc9977f476aa160931ac_120x.gif" }
honeybush and rooibos
red bush
A very popular blend of honeybush and rooibos, two nutrient rich South African plants. Great with or without milk.

winner!
3 star 2020 Great Taste Award
caffeine?
naturally caffeine free
calories?
1 calorie per cup

what's special about this tea?
We've blended slightly sweet honeybush with the nutty tones of rooibos (Afrikaans for "red bush"), two native South African shrubs that complement each other perfectly. They grow only in the Cederberg mountain region of South Africa and are harvested and prepared in much the same way as regular tea. Naturally caffeine-free and nutrient-rich, you can drink it with milk as a caffeine-free replacement to your normal cuppa.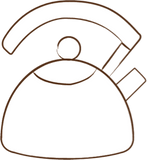 how does it taste?

An earthy, mahogany-colored nectar that gives way to a subtly, nutty flavor.
good if you're feeling

In need of some African sun? Who needs a safari break when a cup of this will give you that much-needed holiday feeling, being crammed with goodies to rid you of toxins and calm your system.
ingredients

Honeybush and rooibos.
nutrition

nutrition per 100ml

0 kcal
0 sugar
0 fat
trace carbohydrate

Dairy free, gluten free, suitable for vegetarians and vegans. Made in a factory that handles nuts.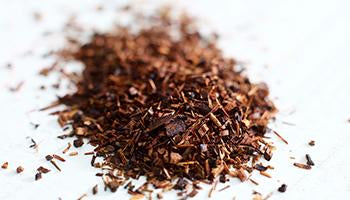 6 amazing health benefits of rooibos tea
Find out what's so great about this sweet, nutty and (naturally) caffeine-free blend.
learn more
our packaging

tea temple
made from plant starch - pop in your commercial compost collection

inner bag
made from wood pulp - pop in your home compost

outer carton
made from sustainable paperboard - recycle me
loose pouch
non-recyclable so try to re-use me!